If you are looking for a Best Country to Study Abroad with high academic standards, and advanced research facilities then Choose to Study in Europe. Europe is the Best Study Destination to Study Abroad. The European Universities offer Variety of Courses, High-Quality Academic Programmes, Cutting Edge Laboratories, Better Research Facilities, Scholarships and funding opportunities, etc. If you Study in Europe you will gain all Skills required to Global Economy. No need to worry about the language also you can study in Europe in various languages like English, Spanish, German, French or Italian.
Why Only Study in Europe?
The European Union is a unique economic and political partnership between 28 European Countries together that cover much of the continent. The European Countries contains Number of Universities that offer Variety of Courses at an affordable cost to the International Students. Among the Worlds Best Universities, Nearly 30 Universities are present in the Europe. With the Numerous Advantages like Free Education, Low Tuition Fee, Student Exchange Programs, Paid Internships, Part-Time Job Assistance, etc.. Europe has become one of the world's most exciting destinations for students.
You have endless choices of Universities from highly ranked research universities to smaller specialized European Colleges in Paris, Denmark, France, Sweden, Germany, and other European Countries. All these Universities in Europe offers exceptionally high academic standards and advanced research facilities. So Students gain world class Knowledge and experience an intriguing diversity of cultures, languages, and societies. The Main Advantage of European Education you don't need to take any tests to join in European Universities. And the EU also offers Schengen visa with which you can roam across 26 Countries out of 28 European Countries. So you can get an International Degree easily with less Amount by studying in Europe.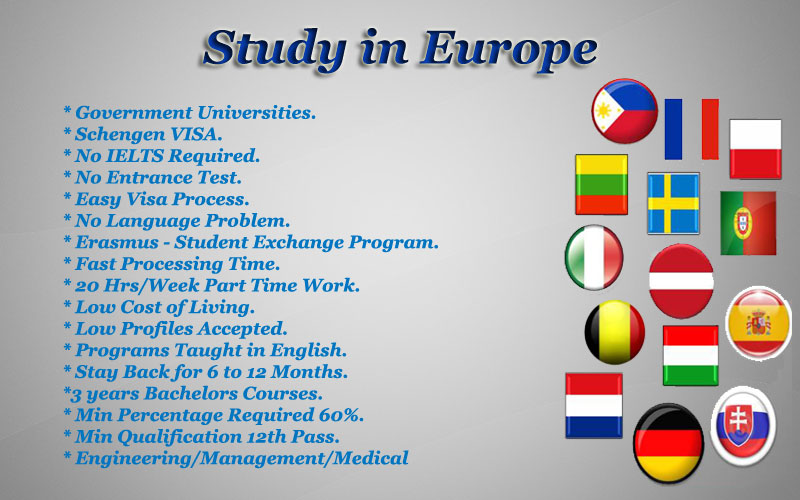 How much will it cost to study in Europe?
The Studying Cost and Living Expenses in Europe are very reasonable and affordable. But the Cost of Education will vary from country to country and Courses. Because the Course Duration may vary from 3-4 years for undergraduate courses and 1 or 2 years for postgraduate courses. But a definitely a World-class Education without any extra cost is obtainable by studying in Abroad.
For the students who want to study in Europe, we have given the Detailed Information about European Education like Application Dead Lines, Intake Dates, English Language Requirements, and Student Visa requirements for each European country. Check all the requirements before applying to European University or College.
Benefits of Studying in Europe
Europe has world's Top ranking Universities providing the variety of courses.
Many of the European Universities are teaching in English Now, So You can Study in English Medium without any difficulty.
European Universities Offer High-quality education for students with great potential.
The Cost of Studying in Europe is very less & Affordable compared to other countries.
The Admission Process in European Universities is very easy.
Some European Universities/Colleges Provides Admission without IELTS Score and they also accept Low Profile.
You can get Schengen Visa Approval to roam freely across 26 Countries of Europe.