Do you want to Study in a birthplace of academia and western civilization? Then choose to Study in Greece. Greece is a beautiful Mediterranean country that has one of the oldest living cultures on earth. You can also have several options to study in Greece. There are 20 Public Universities in Europe offering several Bachelor's, Master's, and Doctoral study programs for the students who wish to study in Greece. So, you can enroll into any English-taught study program or if you like to study in Greek you can opt for Greek Program. Along with the Degrees, the Higher Educational Institutions in Greece also offers traineeship programs. So students not interested in doing any degree program can choose traineeship in Greece. Greece Education System has influence around high schools and universities in the world. It offers Concepts of individualism, freedom, democracy to the students.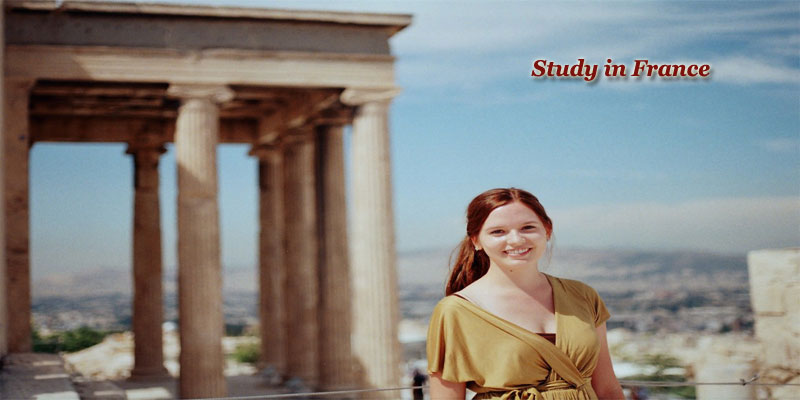 Why Study in Greece?
While planning to Study in Greece, you may have doubts like why should I only choose Greece than Other European Countries. If you are confusing like that don't refuse to study in Greece. Because there are plenty of advantages you can get by studying in Greece. First important thing is its geopolitical position, It puts her in the center of attention in the south-eastern part of Europe. As it is a Nodal point and entrance gate of European Union Greece has so many Multinational Companies in neuralgic financial sectors like commerce, tourism, and services. These companies recruit candidates in large amount every year, So there are plenty of employment to the graduates of the country's educational institutions. The Universities in Greece also taught education mainly related to the market trends like other European and American Universities to provide skills required to live in Society. So by Studying in Greece Universities you not only acquire the infrastructure needed for a successful professional career but also all the qualifications for further studies.
Still, there are several options to consider to study in Greece. It has so many higher educational institutions and the majority of them are located in Athens and Thessaloniki. All these higher education institutions in Greece offers hundreds of study programs from e-learning education programs, short training seminars, conferences, to full-fledged bachelor's and master's degree programs, taught entirely in English/Greek, or in both languages. You can browse and select your preferred course. Moreover, all higher educational institutions in Greece are in Public Sector. So Apart from Specific Courses like MBAs the Greek Universities doesn't charge any tuition fee. And depends on the student's family income and the pre-conditions set by each academic institution, Meals and housing may also be provided to the Students. You can also get free medical care and a reduced fare on public transport by studying in Greek Universities.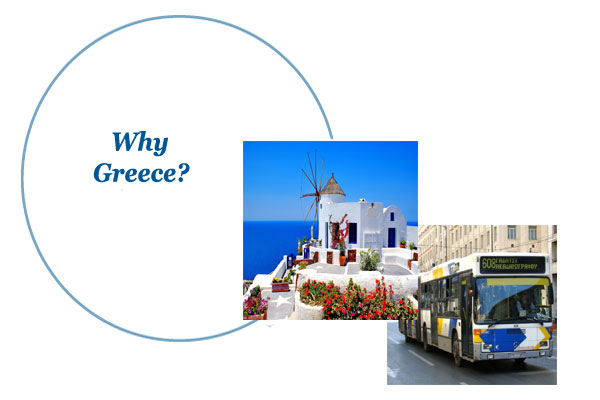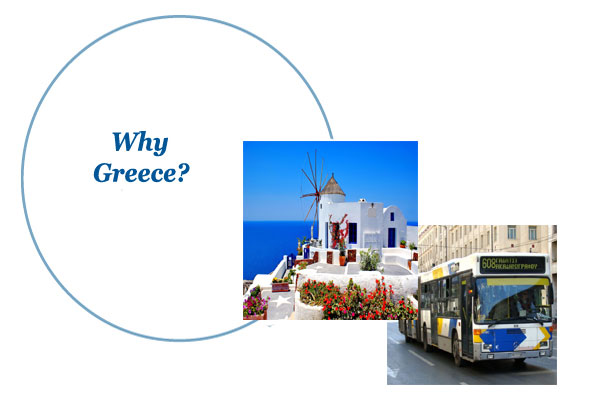 These are the main reasons which make studying in Greece makes exciting, educational, and attractive to the international students. Along with these advantages, the International Students will also find a richly varied geography, a long-established archeological tradition, a modern society, and bustling economy. So by studying in Greece you will get an excellent and very well-respected degree from world class and Globally renowned Universities. For the Students who wish to study in Greece, here we have provided all the necessary information on studying in Finland such as Top Universities, Study Programs, Cost of Studies, and Scholarships. So check complete details of Education in Greece and plan your abroad career.
More About Greece
The Greece is a Beautiful Country located in southeastern Europe with thousands of islands throughout the Aegean and Ionian seas. It has one of the oldest living cultures on earth, presenting many thousands of years of history and development. It is the Common Participant in both the European and Mediterranean economies. It is a democratic and developed country with an advanced high-income economy. It offers a high quality of life and a very high standard of living. Apart from being a founding member of United Nations it is also a member of numerous other international institutions including Council of Europe, the Organisation for Economic Co-operation and Development (OECD), the North Atlantic Treaty Organization (NATO), the World Trade Organization (WTO), the Organisation Internationale de la Francophonie (OIF), and the Organization for Security and Co-operation in Europe (OSCE).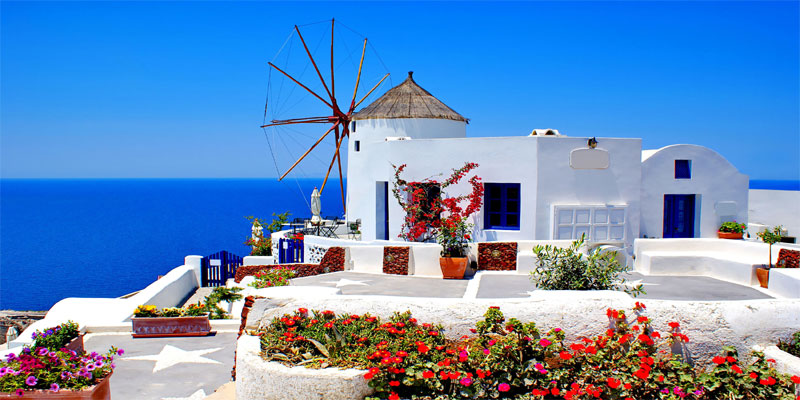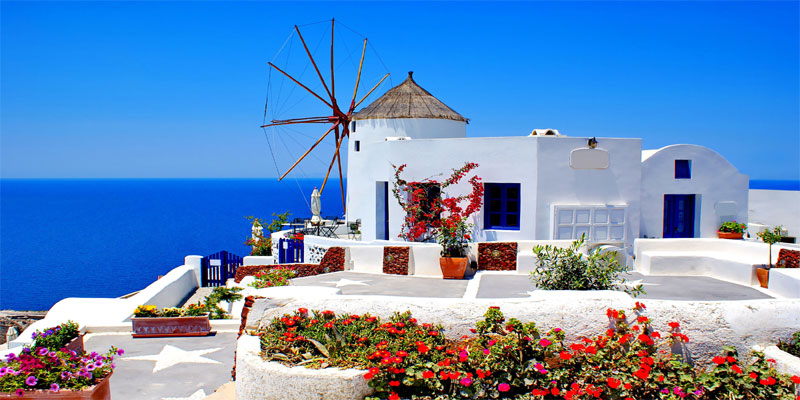 The Greece can be classified as a middle power due to its unique cultural heritage, large tourism industry, prominent shipping sector, and geostrategic importance. It is one of the most visited tourist places in the Europe and the largest economy in the Balkans. It also has public sector world-class institutions to offer quality education to the students. Apart from its culture, Educational Institutions modern Greece has so many to offer. Now it has experienced rapid growth and infrastructure development.
As Greece is known for its Tourism there are so many places to visit while studying in Greece. The Top Tourist attractions in Greece that you might visit while you Study in Greece include
Acropolis, Athens.
Acropolis Museum, Athens.
Santorini.
Mykonos.
Delphi.
Meteora Monasteries.
Rhodes Town.
Corfu Town.
Samaria Gorge.
Nafplio.
Education System in Greece
The Education in Greece is offered in three levels namely primary, secondary and tertiary, with an additional post-secondary level providing vocational training. where the higher education in Greece is provided by Universities and Polytechnics, Technological Educational Institutes, and Academies which primarily cater for the military and the clergy. All these higher educational institutions in Greece Undergraduate, Postgraduate, and Doctoral Degrees to the EU and Non-EU Students. The Undergraduate courses typically last for 4 years, (it may from institution to institution such as 5 in polytechnics and some technical/art schools, and 6 in medical schools), Postgraduate Courses (Msc level) last for 2 years, and Doctorate degrees (Ph.d. level) last for 3 to 6 years. And all levels of Education in Greece is monitored by the Ministry of Education, Research and Religious Affairs.
The Greece has both Private and Public Schools to offer all levels of education. The Public/State-run schools and universities don't charge any tuition fee on students. They also provide textbooks for free to the all students. Apart from Public Institutions, there are also a number of private tutorial schools, colleges, and universities providing supplementary tuition. Usually, the programs offered by the Greek Universities follow the franchise or validation agreements with universities established in other European Union countries, primarily in the UK, leading to degrees which are awarded directly by those universities. The Greek Universities mainly focusing on promoting knowledge through research and teaching, to prepare students for using acquired knowledge in their professional life. The Greek Universities also concentrates on the emphasis to high-quality education according to the demands of science, technology, and arts.
Student Life in Greece
The Greece offers a great Student life and Culture to the students who choose Greece as study Destination. The major cities in Greece such as Athens and Thessaloniki have the greatest amount of educational institutions of the country and offer an intense cultural and academic profile to the Students. Apart from education Greece also offers superb climate in accordance with the numerous monuments. This Climate and Travel Destinations make the Greece as an ideal place to live and study. Having metropolitan centers across the country it attracts people of all nationalities that are fully adapted to Greek Society. And Greece is also considered as one of the safest countries in the world.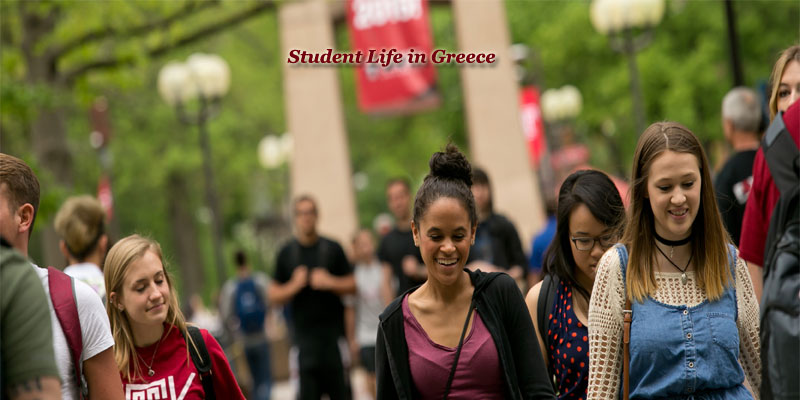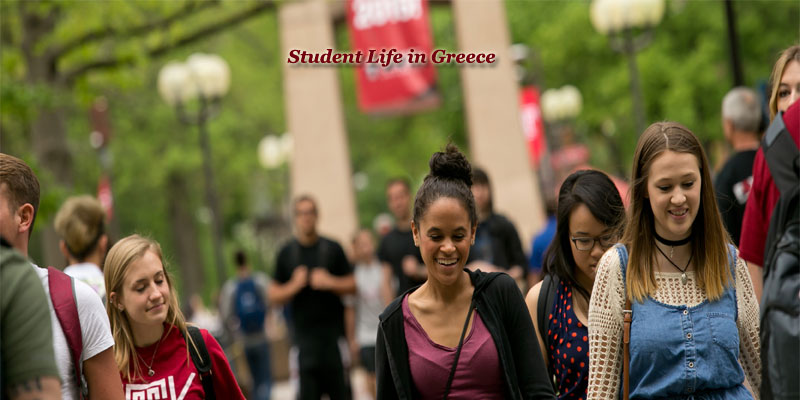 Apart from being a Cultural Destination, it is also a great study destination for the international students. The Greek Universities offer various cultural and sports activities for the students enrolled to study in Greece. Just like the domestic students, the international students can live academic life at greek universities. The Greek universities also operate Sports centers to provide physical exercise programs and activities for University students at free of cost. So every student can participate in different programs and athletic departments during their free time by organizing their activities, to have a better quality life. And the Greek Universities also operate student unions and cultural groups, but the size will depend on the university size. These Student Unions coordinate bigger events and functions as a common voice for all the students in the school. The Student Unions formed as representatives of their departments or the University. You can join in one of the Student Unions depends on your interest.
Top Universities in Greece
There are nearly 20 Universities are spread in various cities across Greece and all these universities operate within the public sector. Though the teaching at these universities is mainly in Greek, some specialized study programs are also available in other languages like English at both Graduate and Postgraduate level. Along with the universities, Greece also has 15 Technological Educational Institutes (TEIs) to offer higher education programs that focus on practical and professional skills, in subjects such as applied technology, healthcare, agriculture, management and art and design. In overall the Greece Education system is highly respected and ranked 41st in the world according to the first edition of the QS Higher Education System Strength Rankings. Among all 20 Greek Universities, Six Universities are featured in the QS World University Rankings list 2016-17.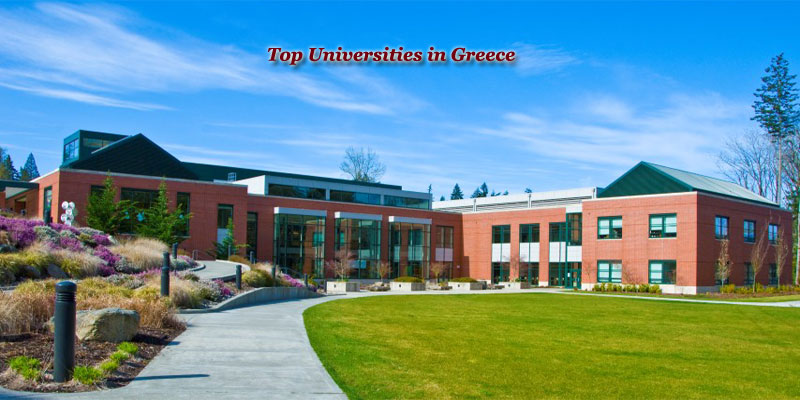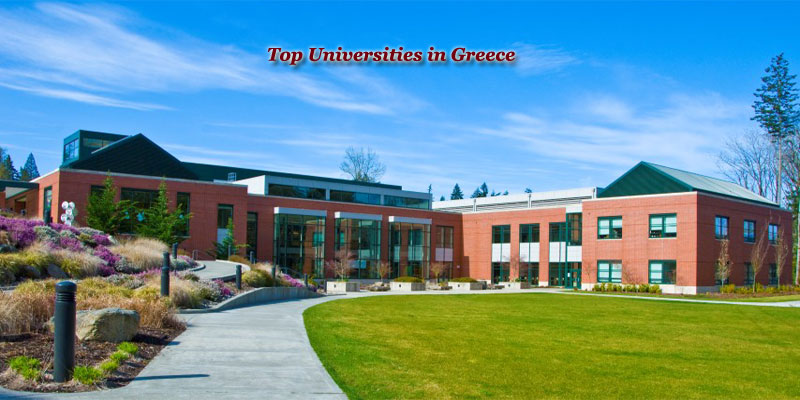 List of Best Universities in Greece
Here we have provided the List of Top Ranked Universities in Greece based on world university rankings. These University rankings help students to compare quality higher education institutions and to identify the best universities in Greece.
Test Requirements to Study in Greece
To get admission in any higher education program in Spain you don't need to take any Entrance Tests like GRE/GMAT. Although the Greece is not a signatory country of the Lisbon Convention, If you have successfully completed your upper secondary studies or if you have a valid school leaving certificate and qualified for higher education studies in your home country you can apply for the Higher Education Studies in Greece. But before being accepted by the Greek Universities applicants must prove a minimum proficiency in Greek and other foreign languages like English, Spanish, French, or German. In some other cases, you also should satisfy course specific requirements. The Universities conducts these admission tests to ensure that you have the right skills and knowledge to successfully complete the course.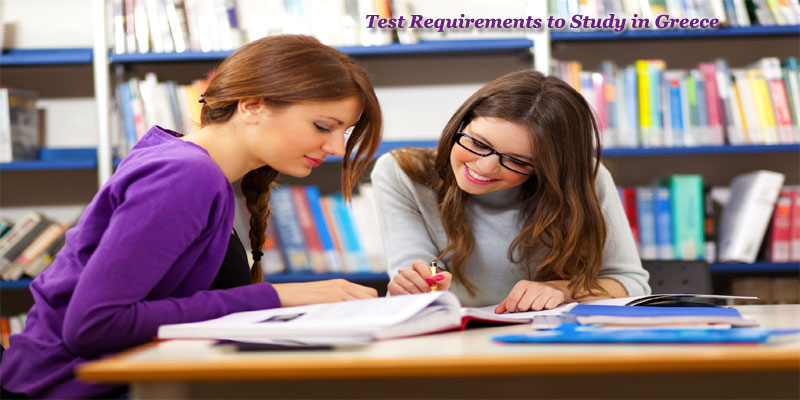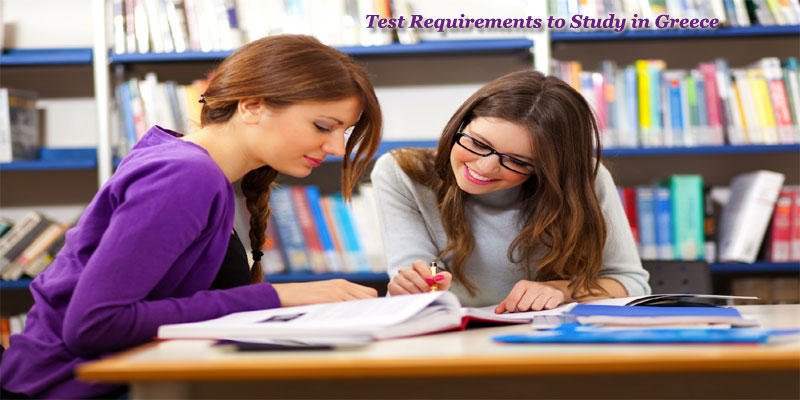 The Students opt for the English Language course and those whose native language is not English can demonstrate their proficiency in English by submitting scores received at the English Language Tests like TOEFL or IELTS tests. A minimum score of TOEFL is 570 (Paper-based) or 90 (Internet-based), and IELTS Score of 6.5 is accepted by the Greek Universities to provide admission in one of the English Language programs.
Generally, the language instruction at Higher Education institutions is Greek. So if you are applying for one of the courses offered by Greek Universities you must be ready to prove your level of command of Greek too. you can prove your proficiency in Greek by taking the Greek language exam from one of the following institutions.
Modern Greek Language Center of the University of Athens.
Modern Greek Language Centre of the Aristotle University of Thessaloniki.
The applied university will check your scores and will analyze your level of Spanish is sufficient to successfully complete your studies in Greece.
Cost of Studies in Greece
The Cost of Studies at Greece are less expensive and affordable to the foreign Students because the Public Universities in Greece charge very less Tuition Fee. Where the EU/EEA Students are exempted from paying tuition fee at public universities and colleges in Greece. But they may also need to pay a tuition fee for some master's programs. If you are not an EU Student you need to pay a small tuition fee to cover your study costs to the public universities and colleges. But this Tuition Fee varies from institution to institution and also depends on the course you have applied. Usually, the Non-EU Students need to pay an average tuition fee of €1500 per year including the textbooks charges.
While going to Study Abroad you also need to consider living costs along with the tuition fee. The Cost of living in Greece is 120.40% higher than in India. Generally, a Meal in an inexpensive restaurant can cost around 10.00 €, a single bus fare (One-way) will average around 1.40 €, and Utilities like (Electricity, Heating, Water, Garbage) will cost around 142.30 €. While the living costs may vary depends on your lifestyle. It depends on the place where you are staying and traveling medium like the bus or a private vehicle, etc. So it is better to pay close attention to the budget to reduce expenses.
Benefits of Studying in Greece
Studying in Greece will be one of the most beneficial experience for a college student. By Studying Abroad in Greece students will have the opportunity to study in foreign and can experience various cultures. By Joining in various courses in one of the Universities in Greece the International Students can avail the below mentioned benefits.
Less Tuition Fee for Non-EU Students and No-Tuition fee for EU Students.
Both English and Greek Language Programs are available.
You can Experience New Style of Education.
Can improve your language skills.
Get Globally recognized Degree.
Can Experience the Great Culture.
Travel around the world.
Can make lifelong friends.
Huge number of employment opportunities.
Free Medical Care and Discounts on Public Transport is available to the foreign Students.
Application Process to Study in Greece
The Universities in Greece has its own admission requirements. So to apply for any universities in Greece candidates should meet the entry requirements of specific University. The Application Process for Universities in Greece is also same as other European Countries. But there are some important steps that you need to go through while applying to the Universities in Greece.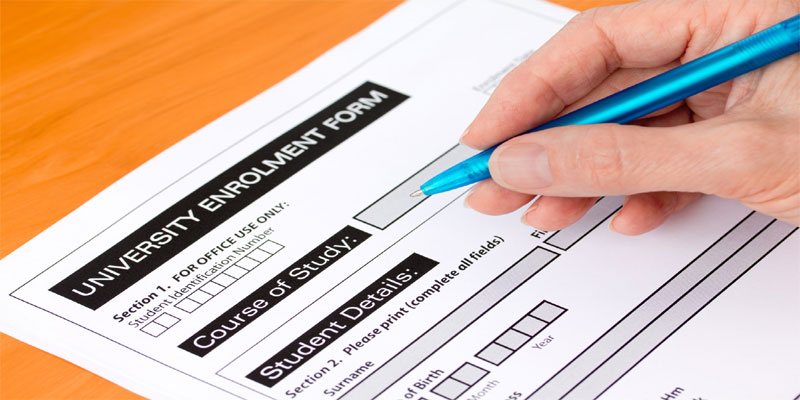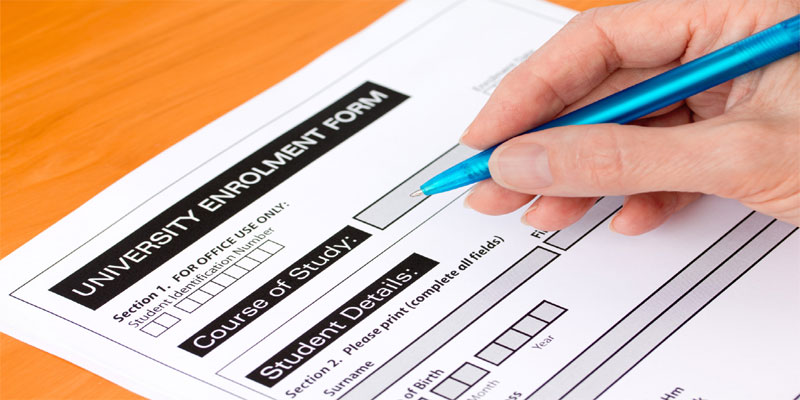 First, choose the University and preferred course and check the application Deadlines.
Get the Application form from the prior University's website.
Fill the Application and search for the more details like Entry requirements and more admission information for international students.
Register for the Required Test and take the Test.
Send the Filled application form along with the required Documents like

Academic requirements.
Evidence of funds to support your study (like Bank Balance).
English language requirements (IELTS/TOEFL).
Overseas Student Health Cover.

After Verifying your Application Form and Documents the University will send you the Acceptance letter to your Mail.
Receive the Acceptance letter and pay your deposit by a certain deadline.
Join in the Respective University at a Mentioned Date.
If you don't want to go through this long process, just visit our PVK Education Consultants. Our Advisors will apply for the University on your behalf by analyzing your Academic Profile and Interests.