If you are planning for Masters in USA, it is also essential to plan your finance before leaving the Home Country. Because before attending to the US Universities you need to provide certification of funding for the entire planned period of study. Only after showing the proofs you will get your Visa approved to Study MS in US. There are also some limited Scholarships available to the Students who wish to Study in USA for free. So by applying to the Scholarships in USA you can manage your Cost of Education a little bit. And you can also show them in your Funding options.
Now you may be looking for the Scholarships for Indian students to Study in USA. To help you in searching the scholarship options we have compiled the list of Scholarships in USA offered by the Colleges & Universities as well as scholarships granted by US government and institutions. But these USA Scholarships are awarded to the students who has strong academics, good performance on standardized exams, and extracurricular achievements. And the eligibility to apply for each scholarship may also vary. So check the below list of USA scholarships for international students and apply for one of them based on your eligibility.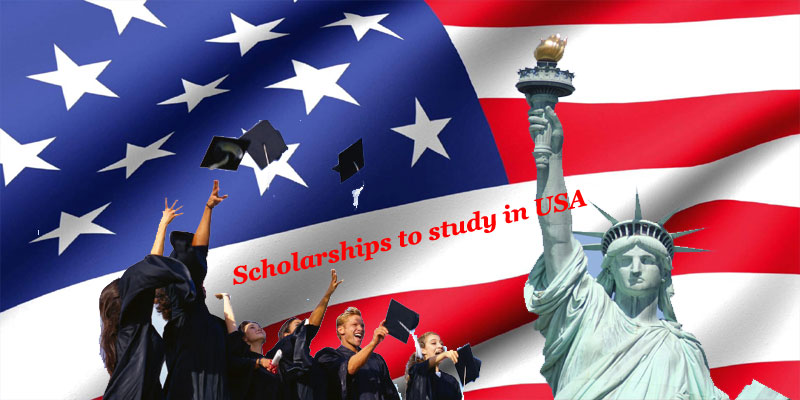 Scholarships in USA for International Students
There are three types of scholarships are available to the foreign students who wish to study in USA. They are
Scholarships for International Students offered by USA Government.
Scholarships for International Students offered by US Colleges and Universities.
Funds/scholarships for study in the US offered by Institutions.
USA Government Scholarships for International Students
The US Government offers special scholarships for the Students interested in completing Masters and Ph.d. Programs by covering tuition fee, textbooks, airfare, a living stipend, and health insurance. These Scholarships can also be awarded to non-degree postgraduate students. The US Government Selects candidates for these scholarships based on their potential for leadership and their commitment to public service in either the public or private sector.
Foreign Fulbright Student Program.
Humphrey Fellowship Program.
US Colleges and Universities that offer Scholarships for International Students
The Scholarships offered by the US Universities are the financial aid programs that provide assistance to the financially needy international students. These limited number of generous partial merit scholarships are awarded to the academically qualified incoming international first-year undergraduate students. These Scholarships covers Tuition cost, room, and boarding fee. Based on the University this coverage options may vary. But definitely, these university scholarships will help you in covering financial expenses.
American University Scholarships.
Amherst College Scholarships.
Berea College Scholarships.
Clark University Scholarships.
Colby-Sawyer College Scholarships.
Columbia College Scholarships.
Concordia College Scholarships.
Dartmouth College Scholarships.
East Tennessee State University.
East-West Center Graduate Degree Scholarships.
Emory College Scholarships.
Illinois Wesleyan University Scholarships.
Iowa State University International Merit Scholarships.
Michigan State University International Scholarships.
New York University Wagner Scholarships.
Oregon University Scholarships.
Wesleyan University Scholarships.
University of the West Scholarships.
Institutions that fund international scholarships for study in the US
There are some institutions that especially maintains funds to provide financial assistance to the students applying to pursue development-related studies at selected Universities around the world. This Scholarship is awarded mostly on full-time study or research in the United States to the students who are not US citizens or permanent residents.
Joint Japan World Bank Graduate Scholarships.
AAUW International Fellowships.
Aga Khan Foundation International Scholarship Programme.