Do you want to Study in European Country in a Green and Clean Cities with a high quality of life why don't you consider Study in Denmark? Denmark is a country that ranks highly in some metrics of national performance, including education, protection of civil liberties, health care, democratic governance, prosperity, and human development. Because of these Benefits, Students from Abroad shows interest to study in Denmark. There are approximately 18,000 International Students out of 2,30,000 Students are now studying in Danish Universities. The Foreign Students prefer Denmark not only because of its lifestyle, but It is also an industrially developed country. So Study Abroad in Denmark will place you in a good company.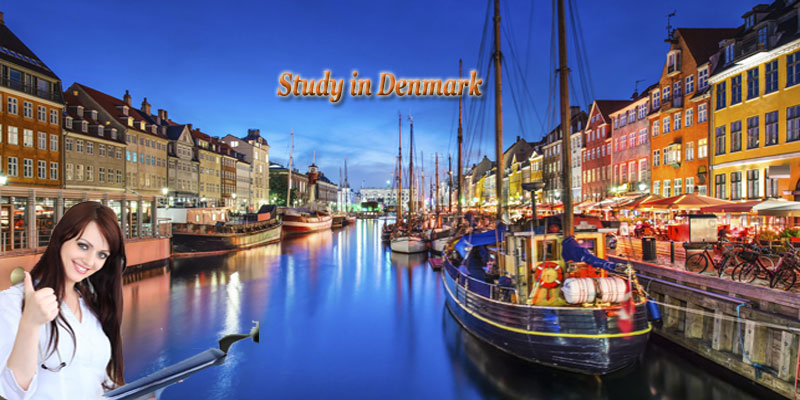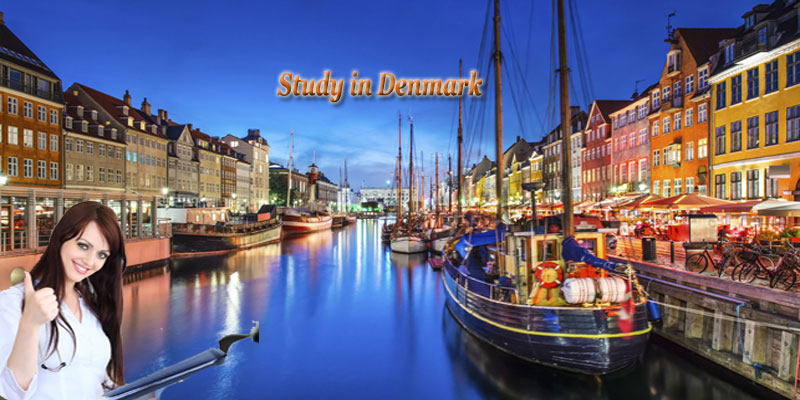 The Denmark offers a plenty of opportunities to the international students and researchers. So it is easy to make a choice to study in Denmark. And the Higher Education Institutions in Denmark are internationally oriented and offers numerous study programs and individual courses in English. So you don't feel any language barrier while studying in Denmark. And by studying in Denmark Universities, you can develop your ability to work with others, think creatively and apply new knowledge through Combining traditional lectures and tutorials with project-based teaching methods. You will also gain valuable practical experience by studying in Denmark. To ensure you to the up-to-date learning environment where you can learn from industry experts and undertake internships in globally recognized organizations Danish Higher Education Institutions cooperate with Business. So by studying in Denmark you can get Quality Education from Public Universities with Practical Knowledge.
More About Denmark
Denmark is a Scandinavian country in Europe comprising of several Islands like Jutland, Peninsula, etc. The Denmark is famous for Royal Palaces and Colorful Nyhavn Harbor, Plus the Tivoli Amusement Park and the iconic "Little Mermaid" statue. It is the First Country to Join in the European Union on 1st January 1973 from Nordic Countries. The Population of Denmark is very less, only 5.7 million people are living in Islands of Denmark. And coming to the Danes they like to enjoy a high standard of living.  The Denmark also ranks as the world best country in some metrics such as National Performance, including Education, Health Care, Democratic Governance, Protection of Civil Liberties, Prosperity & Human Development. The Country also ranks as the world's highest social mobility and a high level of income equality.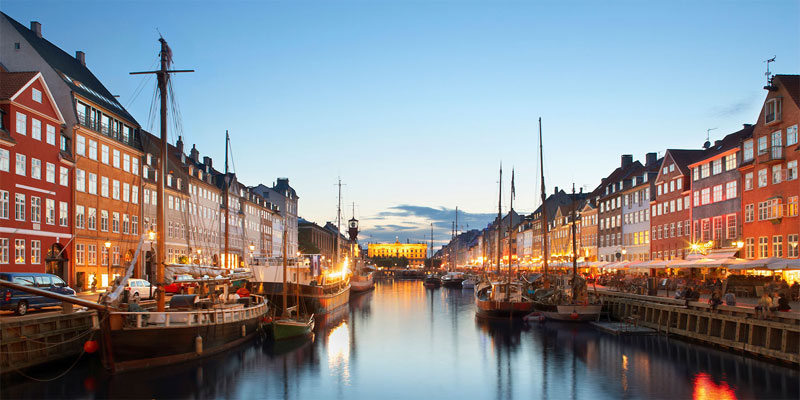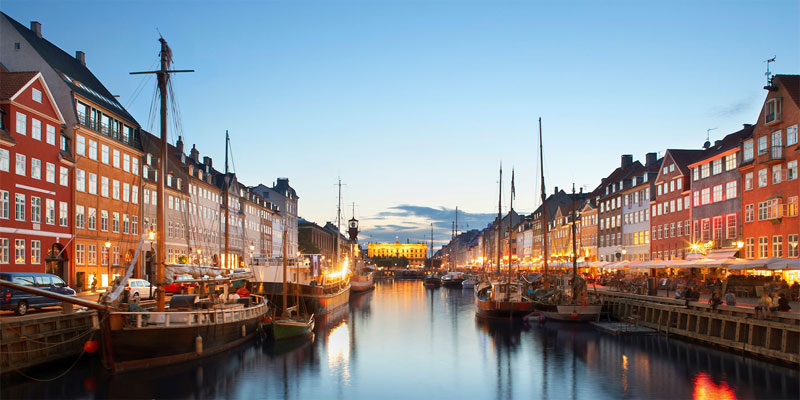 The Country is also known for its higher education. It has 31 higher education institutions in the country to offer quality higher education to the European and Non-European Students. Though it has less population, Denmark has ranked among the world's most innovative countries through its strong emphasis on research and quality higher education. You can enjoy the informal Atmosphere in class at University, and an international approach to education as well as a large array of progressive study programs by Studying in Denmark. Along with the Higher Education and Development, the Denmark is also known for its Tourism. The Top Tourist Attractions that you would like to visit during your term Breaks include
Top 10 Tourist Attractions in Denmark:
Tivoli Gardens.
Bornholm.
Kronborg Castle.
Den Gamle By.
The Little Mermaid.
The Legoland Billund.
Skagen Beaches.
Vikingeskibsmuseet.
Oresund Bridge.
Frederiksborg Palace.
Danish Education System
After completion of Pre and Secondary education, the European students are allowed to study higher education in Denmark. And the Preliminary Education in Denmark is compulsory for the children below the age of 15 or 16. The Country has 31 Higher Education Institutions to offer quality higher education. The various types of Higher Education institutions in Denmark includes Artistic Higher Education Institutions for (research and/or artistically based undergraduate and postgraduate programs), University Colleges (Academy Profession and professional Bachelor's programs), Universities (research-based undergraduate and postgraduate programs), Business Academies (short-cycle higher education institutions offering Academy Profession and joint Bachelor's degree programs), and Adult education Programs. And there are also some individual courses offered by either college or university under the Act on Open Education.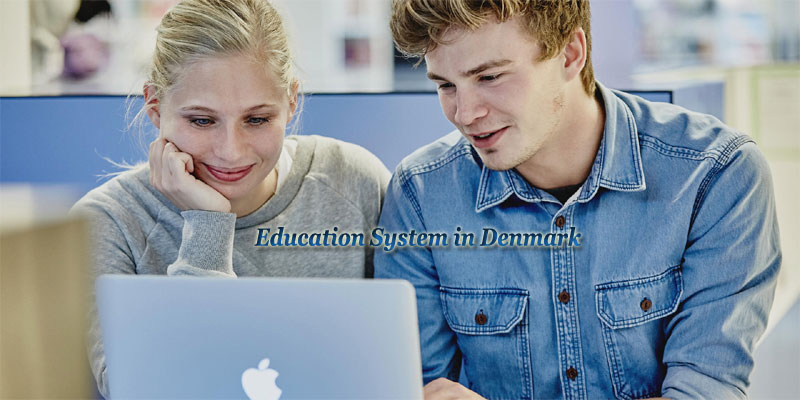 But to study Higher Education in Denmark the Non-EU Students should pay tuition fee, where the EU and exchange students can enjoy free education. To help the students who have to pay tuition fee the Danish Universities offer scholarships/funds and other types of financial assistance. Through these financial assistance programs, the Denmark Universities attract the best students from all over the world to study in Denmark. In fact out of 2,30,000 Students in Danish Universities 18,000 Students are International Students. And the Universities in Denmark offers many study programs that focus intently on Theoretical studies, Academic Research, and Skills Acquisition. So Students like to study in Denmark can get Quality Education from Public Universities in the English Language.
What is life like as a Student in Denmark
Besides offering a World Class Education Denmark is a Great place to live and work. It is a safe and Well-organized country. The Danes are well educated and like to enjoy a high quality of life. When you arrived in the Denmark you can feel the relaxed atmosphere, an efficient transport system and a unique network of association activities. By looking at their old buildings and modern sustainable architecture you can say that how the Danish people treasure the old but love experimenting with new. But living in Denmark is not that cheap If you want to follow the local habits it will be a little bit expensive to live in Denmark.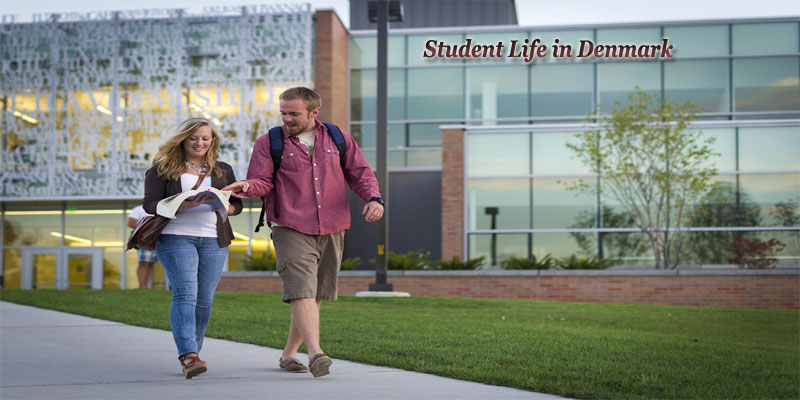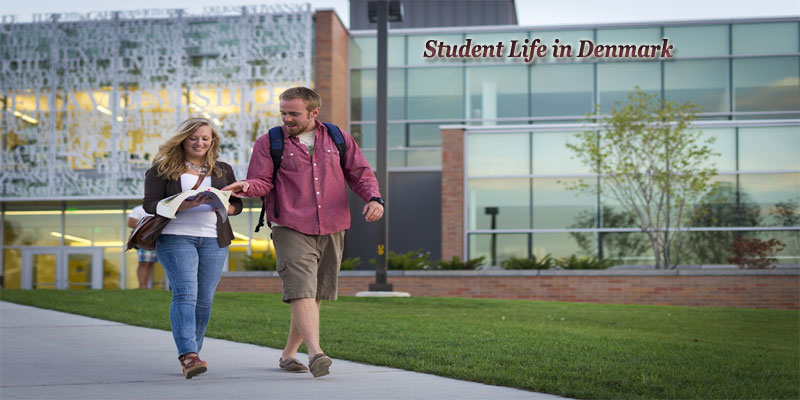 As a Student in Denmark you can structure time yourself, So you will learn an independent life while living there. And the Student life in Denmark is very flexible, you can choose your working days based on your convenience. As studying in Denmark is expensive compared to other European countries the Danish Universities offer Scholarships, Grants, and other financial assistance to the international students. So before going to Study in Denmark estimate your cost of studies and plan your expenses accordingly. The Benefits you can get as a student in Denmark include
Health & Safety.
Travel & Transport.
Housing in Denmark.
Bank & Budget.
Libraries and leisure.
Working in Denmark.
Permits, Visas & Red Tape.
Learning Danish.
Top Universities in Denmark
Despite of being a small country, it has 31 Higher Education Institutions that offer quality higher education to the international students. Among them, Five Universities are in the Top 400 of the QS World University Rankings 2016-17. All these Public Universities in Denmark offer a world-class education with English Knowledge. And All these Universities offer the wide range of Courses. So you can have numerous choices of selection of Study Programs at Danish Universities.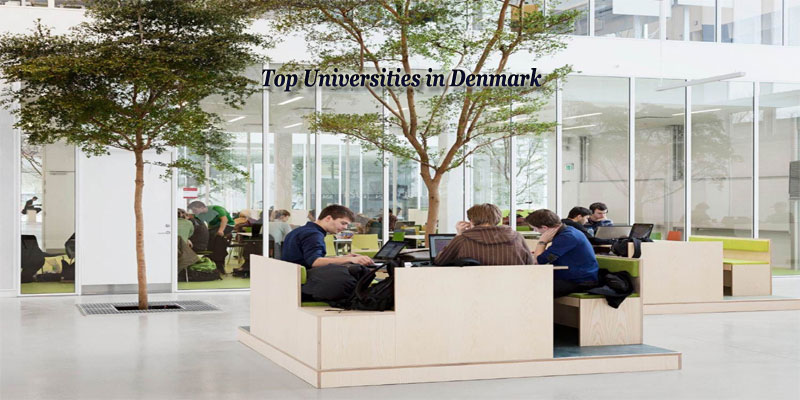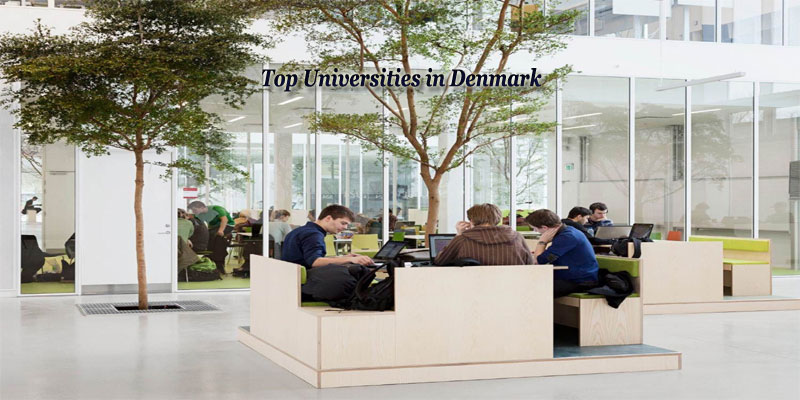 List of Best Universities in Denmark
Here we have provided the List of Top Ranked Universities in Denmark based on world university rankings. These University rankings help students to compare quality higher education institutions and to identify the best universities worldwide.
Test Scores required for admission in Danish Universities
To Study in Denmark Universities, you don't need to take any Admission Tests like GRE/SAT/GMAT, etc. You can apply for the Higher Education Studies in Denmark, If you have successfully completed your upper secondary studies in one of the signatory countries of the Lisbon Convention or if you have a valid school leaving certificate and qualified for higher education studies in your home country. However, if you are requested to prove your English language ability or Danish Language you need to prove it.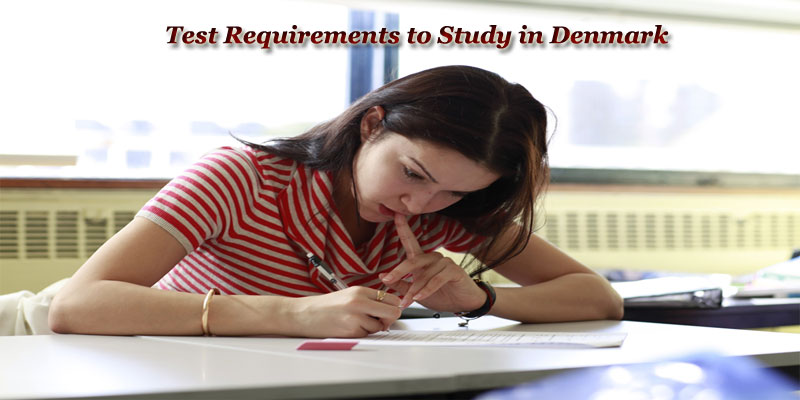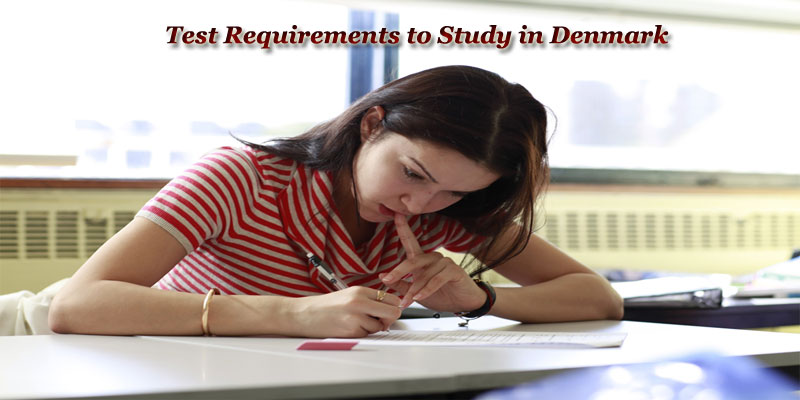 As there is no need submit any test scores the Danish universities provides admission based on their academic achievements. So you will need to submit certified copies of educational qualifications with original stamps and signatures or Two people who are not related to you should sign on the back of certificates with their Name, Address, and Birth Date. So check your chosen university to know the admission requirements before applying to it.
How much Does it Cost to Study in Denmark?
The Cost of Studies in Denmark is a little bit expensive compared to other European Countries. As the Danish People like to live High-quality life, to match with the Danish lifestyle we need to spend more on our living expenses. Along with the living Expenses, the Tuition fee for Non-European Students is also high in Denmark compared to the European Students. And the Danish people like to use bikes more to go to Colleges so to meet with them if you plan to use bike, your transportation cost will also increase. But despite of high cost of studies, you will get the world-class education at the danish Universities. They offer a strong emphasis on Quality higher education and research.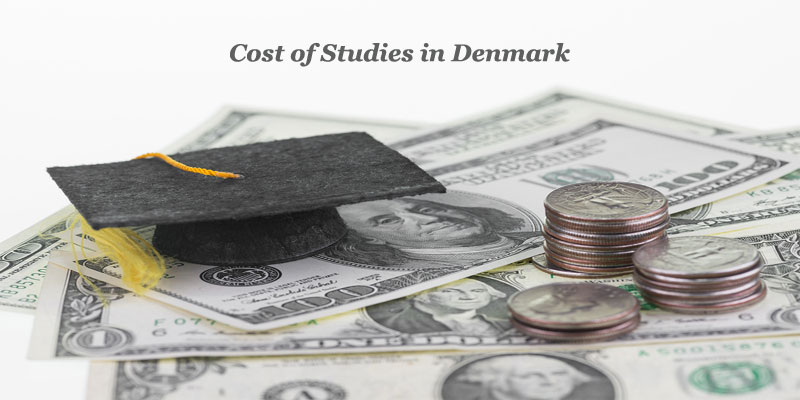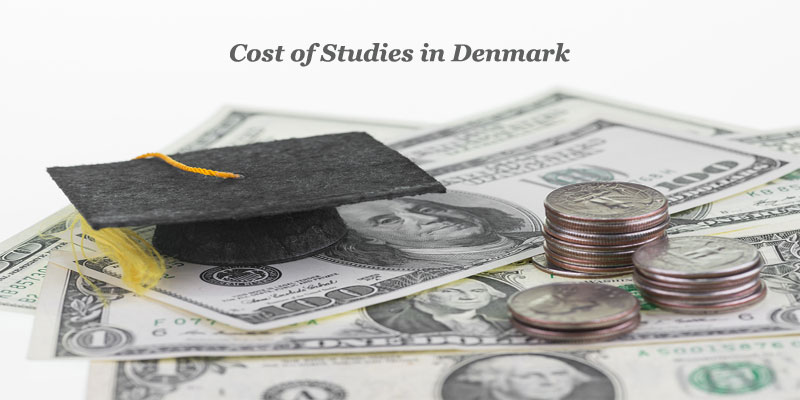 So it is better to estimate your tuition fee, living cost, Transportation before landing on Denmark. If there is no perfect planning you may face difficulties in your University. To reduce the burden on International Students who have to pay Tuition Fee, the Danish universities offer Scholarships/Grants and other Financial Assistance. So check which scholarships are available to you and apply for it to manage your cost of studies in Denmark. By using these financial assistance programs you can complete your studies economically, though the Denmark is an Expensive Country.
Benefits of Studying in Denmark
Though the Cost of Studies in Denmark is more compared to other European Countries Denmark has become popular study destination among International Students because of the Quality Higher Education, High-Quality life, Great Student Cities, etc. By Joining in various courses in one of the Universities in Denmark the International Students can get the below mentioned benefits.
High standard of education.
Free Healthcare.
Can Study in one of the World's Happiest Country.
No IELTS Required.
Can learn New Languages and can meet new people.
Can Experience the High Quality of life.
Student Scholarships & Grants are available.
Some English Language Courses are also available at Danish Universities.
Application Process to Study in Denmark
To get the Admission in Danish Universities Candidates should meet the admission standards of that particular University. The Application Process for Universities in Denmark is also same as other European Countries. But there are some important steps that you need to go through while applying to the Universities in Denmark.
All higher Education Programs in Denmark requires high quality of English or Danish Language. Applicants who opt for English Language courses should prove their proficiency in the language by taking the language tests TOEFL, IELTS and Cambridge ESOL examinations (CAE).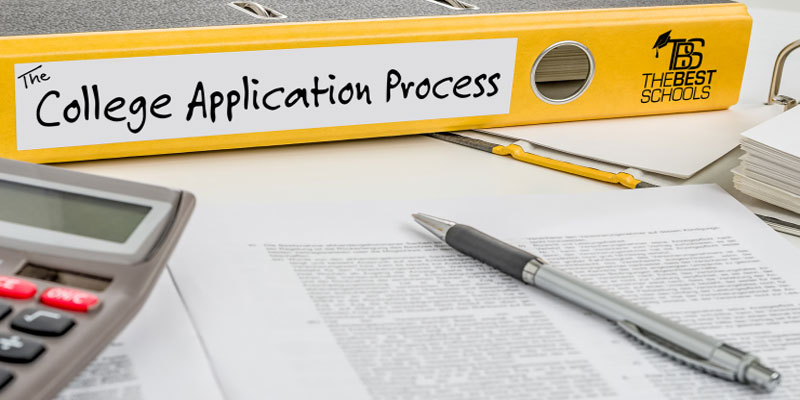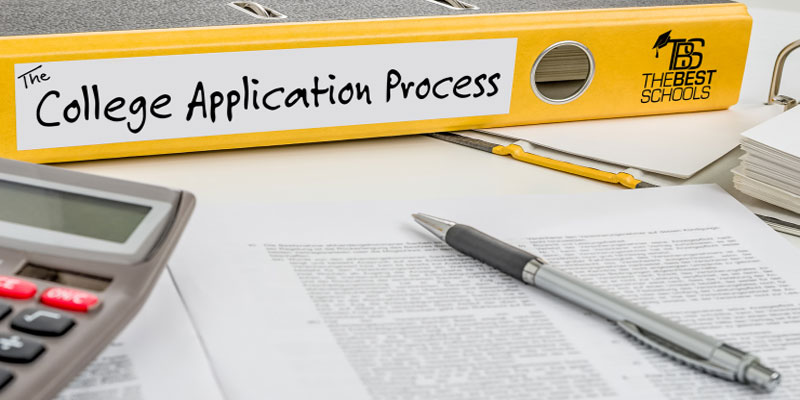 The Steps include while applying to the Universities in Denmark include
First, choose the University and preferred course.
Get the Application form from the prior Universities website.
Fill the Application and search for the more details like test requirements and more admission information for international students.
Register for the Required Test and take the Test.
Send the Filled application form along with the required Documents like

Academic requirements.
Evidence of funds to support your study (like Bank Balance).
English language requirements (IETS, PTE, TOEFL Scores).
Overseas Student Health Cover.

After Verifying your Application Form and Documents the University will send you the Acceptance letter to your Mail.
Receive the Acceptance letter and pay your deposit by a certain deadline.
Join in the Respective University at a Mentioned Date.
If you don't want to go through this long process, just visit our PVK Education Consultants. Our Advisers will apply for the University on your behalf by analyzing your Academic Profile and Interests.